Green Tea & Digital Assets Weekly Round Up (March 27, 2022)
A weekly newsletter on actionable digital asset market insights and practical observations with a smidgen of greentea 🍵 insights
🎥🔥 My Youtube Content 🎥🔥
Subscribe 🙏🏼
📖 Book of the Month 📖
This month (or maybe two), I am reading Debt: The First 5,000 Years. If you follow me on Twitter or my prior books you will notice that the Debt topic is top of mind. This is because I think we are nearing some sort of major reset and I want to gain as much knowledge as possible on the history around this topic because no humans alive today have lived through what I think is coming which is a major global debt reset and/or hyperinflation to reduce debt levels. If you are reading along or listening drop me a note on Twitter or email!
Listen to Debt: The First 5,000 Years For Free with Audible. Link
💭✍🏼 Food For Thought 💭 ✍🏼
This is what comes with mainstream acceptance--mainstream rules and compliance - Link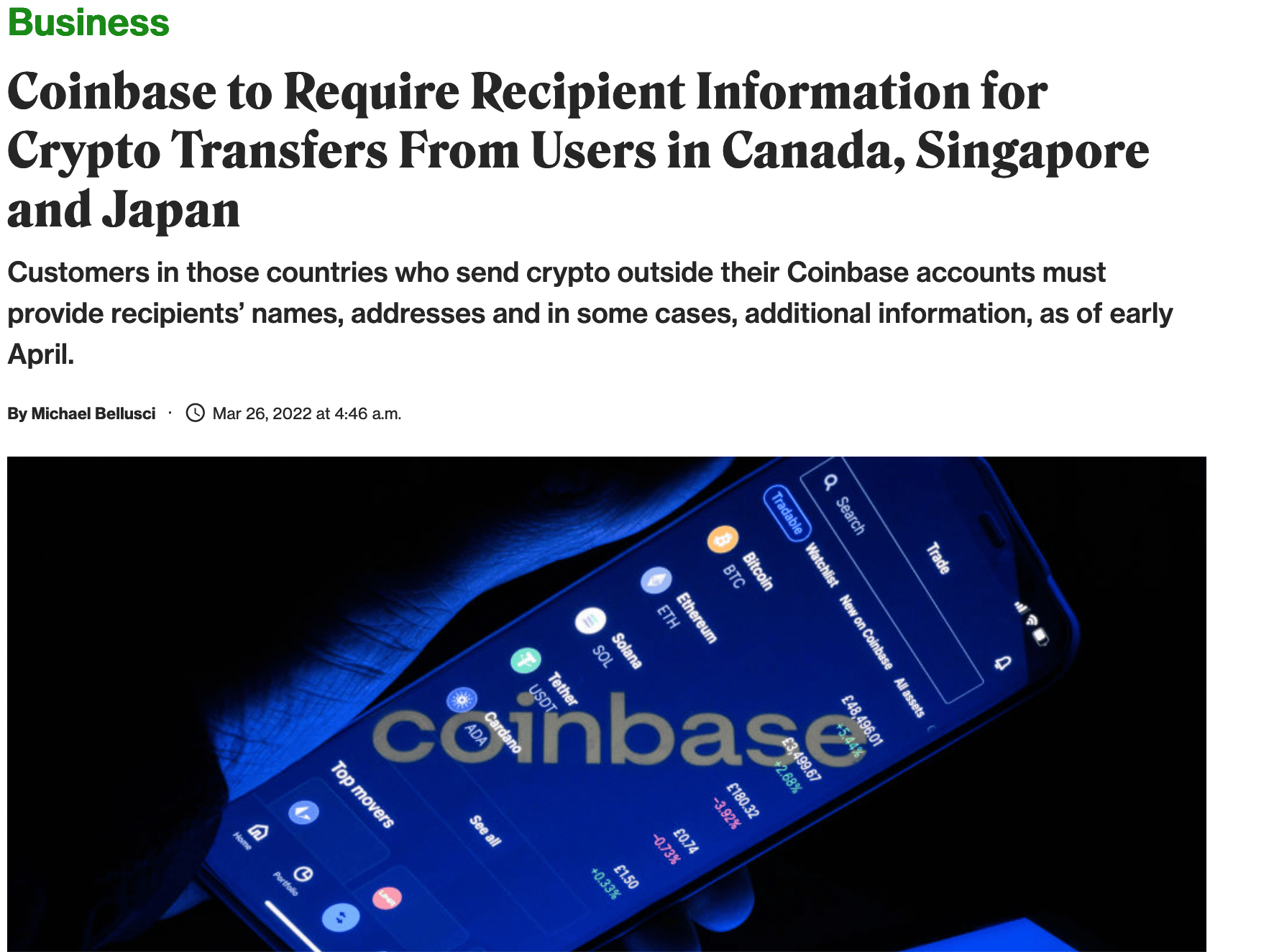 Thailand Bans Crypto as a medium of payment for businesses (not a suprise given the capital account) - Link
💸 Companies and Deals I am Watching Closely 💸
1. Yuga Labs, the company behind Bored Ape Yacht Club, raised $450 million in a round led by Andreessen Horowitz. - Link
2. FTX is investing $100 million in Dave, a publicly traded banking app, and will explore introducing digital asset payments onto Dave's platform. - Link
3. Coinbooks, an accounting software provider for DAOs and the crypto industry, raised $3.2 million from Y Combinator, Multicoin Capital, Polygon's founders and others. - Link
📖 Quote of the Week 📖:
"War is the unfolding of miscalculations."
- Barbara W. Tuchman
📰 This Weeks Most Interesting Digital Asset News 📰:
Bridgewater's Investing in Crypto Fund- Link
2.     ​Florida governor says the state will accept bitcoin for tax payments - Link
3.     Malaysia Comms Ministry Proposes Adopting Crypto as Legal Tender - Link
4.     Luna is Buying BTC to Back Its Token (see my YT video on Luna Seigniorage) - Link
5.     Exxon Gets Into Bitcoin Mining - Link
📈 Top 10 Market Movements by Market Cap over the last 7 days 📉:
Bitcoin: Price OHLC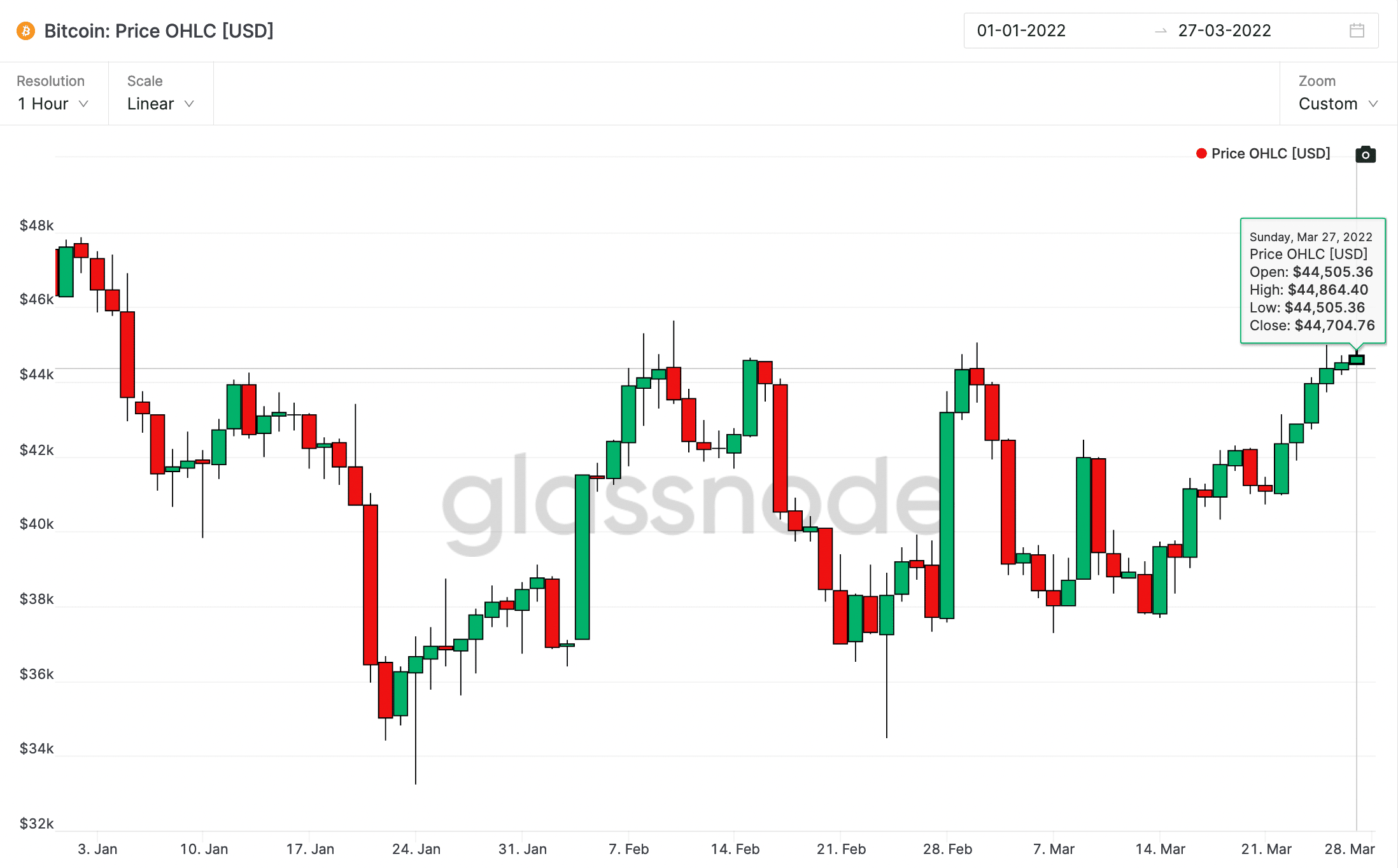 We are seeing a continued turn in Bitcoin's on-chain data. As you can see since January the Closing price each market day for Bitcoin has done better this week but still within the overall choppy trend.  Time will tell if things hold. I remain bearish short term  but I will now officially state that I will personally be dipping my toes back in over the next few months but not buying today. If there is anything dramatic that changes I may send out a flash newsletter.
Bitcoin: HODL Wave
The chart shows the bundle of all active supply age bands for Bitcoin, aka HODL waves. Each colored band shows the percentage of Bitcoin in existence that was last moved within the time period denoted in the legend.  I do not think we are at the trough point but as I have said before--they world has never had Bitcoin during a "great power war" nor during Stagflation 1940s and/or 1970s style.  If you have not--make sure to checkout my video on "Inflation" from Q4 21--it remains more relevant than ever.
Ethereum: Price OHLC
OHLC is the Open, High, Low and Close price. ETH has also continued to move week over week but overall is still chopping around. As I said above, I remain bearish from a price perspective but I am paying closer attention to the on-chain data starting today. On the tech development side there is tons of good stuff still happening as migration to proof of stake continues.
Total Value Locked (USD) in DeFI
DeFI TVL has jumped this week up from $78 Billion last week. I am still on the sidelines watching for now because I think the last weeks "risk on" was a tech bubble filled "head fake". Maybe I am wrong and DeFI is on the rebound--in truth, no one knows. My opinion remains this big bounces in DeFI is a head fake. From my perspective, how can it be anything more than a head fake given the broader macro and regulatory backdrop. Time will tell.
As a reminder TVL means "Total Value Locked". This refers to people taking ETH based tokens or other tokens and "locking" them in DeFI protocols to lend, generate yields and otherwise earn excess returns.
Products I Personally Use and Support